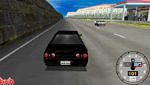 An excellent, Need For Speed style 3D racing game. You can play in Arcade Mode or race against time in Time Mode. You can choose from 5 different cars and 3 beautiful tracks. There are also two levels of difficulty – Novice and Expert. During game, press SHIFT to make your car drift!
Game Controls:
Left/Right Arrow – Steering
Up Arrow – Accelerate
Down Arrow – Brake / Reverse
SHIFT – Drift!