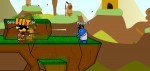 This is a truly unique game – a multiplayer platform shooter. Up to 4 players can play at once on the same area, shooting with various weapons and throwing bombs. Your aim is to shoot opponents to death or shove them off the platform. Great cartoon graphics and very dynamic gameplay will guarantee lots of fun.
Game Controls:
Arrow Keys – Move character
Left Square Bracket ( [ ) – Shoot the weapon
Right Square Bracket ( ] ) -Throw the bomb
Players 2 – 4 Controls can be edited in options.