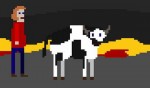 Crazy point-and-click, 8-bit Commodore 64 style game. You are McPixel, an ordinary guy on a mission to find hidden bombs on every level. Just click an object or person to interact with it. You have only 20 seconds per each level to solve the puzzle. Unpredictable story and twisted sense of humor are the main highlights of this great indie production.
We at Funky Potato are only presenting a video gameplay. You can play the demo game on the McPixel official website here. If you like it, download the whole game with over 100 levels from Steam.com and pay the author, Mr. Sos Sosowski the fair price for this awesome game.
And if you like this game, then play the completely bizzarre Christmas Shotgun Defense, from the same author.
You can also play in the fan-made, McPixel vs. Congress game. In McPixel vs. Congress, your goal is to dance to the pirate song, by pressing appropriate arrow keys when green arrows reach the blue ones on top on the screen. Enjoy!
Game Controls:
Arrow Keys – Dance