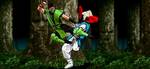 The legendary beat'em up game is now on Funky Potato! MORTAL KOMBAT was a milestone in the videogames industry – smooth animations, super-brutal attacks with gory fatalities and fast-paced action set the standards for the next decades. Enjoy this classic game and try to win the tournament on Shang Tsung's Island!
SEGA GENESIS Controls are:
DIRECTIONAL PAD = ARROW KEYS | START = ENTER. MODE = SPACE
A Button = Z. B Button = X. C Button = C | X Button = A. Y Button = S. Z Button = D.