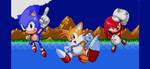 Sonic has thought that he settled his scores with Eggman… but unfortunately, he followed him up to the peaceful Souther Island where now you have to face the evil bald man again! Lots of fun for all SEGA games fans – enjoy the adventures of Sonic the Hedgehog in this fan-made game!
SEGA GENESIS Controls are:
DIRECTIONAL PAD = ARROW KEYS | START = ENTER. MODE = SPACE
A Button = Z. B Button = X. C Button = C | X Button = A. Y Button = S. Z Button = D.