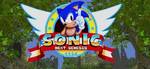 SONIC NEXT GENESIS is remake of the classic SONIC THE HEDGEHOG game that uses elements, characters, and levels from the 2006 game SONIC THE HEDGEHOG and put them in a 2D game. Are you ready for a brand new part of SONIC adventures?
SEGA GENESIS Controls are:
DIRECTIONAL PAD = ARROW KEYS | START = ENTER. MODE = SPACE
A Button = Z. B Button = X. C Button = C | X Button = A. Y Button = S. Z Button = D.