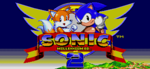 SONIC 2: MILLENNIUM EDITION is an awesome, fan-made Sonic The Hedgehog 2 remake. Enjoy new maps and characters as you dash through levels full of obstacles and enemies. Have fun!
SEGA GENESIS Controls are:
DIRECTIONAL PAD = ARROW KEYS | START = ENTER. MODE = SPACE
A Button = Z. B Button = X. C Button = C | X Button = A. Y Button = S. Z Button = D.