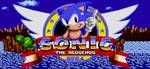 Let's play one of the most recognizable SEGA games ever – the famous SONIC THE HEDGEHOG! As Sonic, the blue hedgehog with superpowers, your goal is to find evil Dr. Robotnik, who has imprisoned and turned your animal friends into the robots. He's also a thief who has stolen the magical gems called Chaos Emeralds. Jump, run, dash-attack your enemies and rescue your friends, Sonic!
SEGA GENESIS Controls are:
DIRECTIONAL PAD = ARROW KEYS | START = ENTER. MODE = SPACE
A Button = Z. B Button = X. C Button = C.
X Button = A. Y Button = S. Z Button = D.