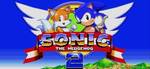 SONIC THE HEDGEHOG is back in the action-packed sequel! Dr Ivo Robotnik hasn't given up his world domination plans… yet this time he came up with a new deadly invention, a space station named Death Egg. Along with your friend, Tails, who can fly using his double tail, you have to fight with Robotnik's minions and destroy the Death Egg. Have fun, playing solo or in 2 players mode!
SEGA GENESIS Controls are:
DIRECTIONAL PAD = ARROW KEYS | START = ENTER. MODE = SPACE
A Button = Z. B Button = X. C Button = C.
X Button = A. Y Button = S. Z Button = D.